Dasher - Christmas 4 Blues
Out of Stock $67.00

Or 4 payments of $13.75 with
Learn more
$9.90 flat-rate shipping

Made & Sent Quickly

40 day money back guarantee*

Safe &amp secure shipping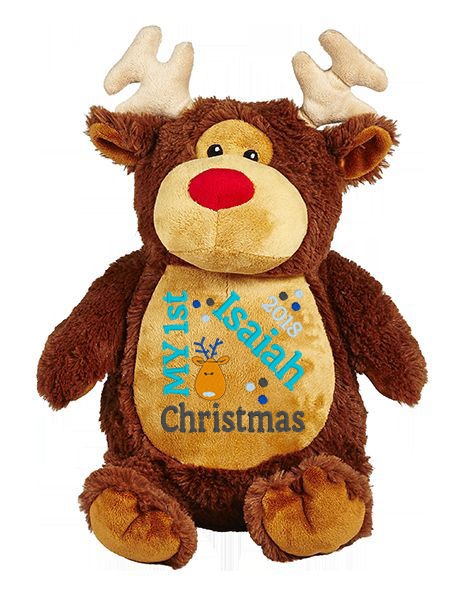 Dasher Personalised Christmas Teddy
This lovely reindeer teddy comes in two shades of fur, chocolate and tan with lovely fawn coloured antlers.
Dasher has a cute ruby red nose as all reindeers should and features downy antlers.
Super soft fluffy brown fur completes Dancer, making it a lovable reindeer teddy bear that is perfect for babies or toddlers this Christmas.
Personalised Christmas gifts for Babies
Personalise this cutie with the names and details of your little one to help them celebrate Christmas whether it be their first christmas present or for toddlers and older children too.
Our personalised teddys make amazing baby Christmas presents that will be treasured and cuddled for many years to come.
It's not easy finding a personalised first Christmas gift, that is meaningful and unique to your child, but My Teddy have that covered for you. My Teddys are a great gift for grandparents to give and Auntys and Uncles too.
Dasher Personalised Christmas Teddy
This Dancer reindeer comes personalised with a Christmas greeting in traditional colours, and this stunning and unique Christmas design created by My Teddy. It's a perfect Christmas gift for kids or babies, but if you don't like this design, or it doesn't suit, you can create your own personalised teddy from scratch and make all your unique selections here.
Order Easily Online
Now that you have selected the Dasher Reindeer and the embroidery design of your choice, add your text and any special instructions. We will then send you a draft design via email for your approval. Once approved we will make your special gift and have it sent to you express.
To view our full range of personalised Christmas Teddy's click here.
More Information:
Dancer Christmas Reindeer for a first Christmas. 38cm in the seated position.
Postage Costs
$9.90 Express and Registered.
$5 for each extra teddy bear ordered at the same time and going to the same address.
All My Teddy orders made & sent quickly. Teddies usually arrive within the week, in Australia, but can take longer, depending on how busy we are and your destination.
Please order well in advance for Christmas, Easter and Valentines Day to avoid disappointment. Postal services are often more congested at these times.
We use Australia Post for all our teddy deliveries.
Our parcels within Australia require a signature and we can deliver your teddy bear to homes, businesses, PO Boxes, hospitals etc.
You can request for your teddy bear to be left somewhere safely with NO signature, just mention this on your order. This is at your own risk.
Postage time will depend on your location in Australia.
We use Air Mail for overseas parcels and, depending on your location, can take several weeks to arrive. New Zealand deliveries are generally 5-14 days.
Please note that overseas parcels do not have tracking.
Our Guarantee
We are confident you will be more than satisfied with the quality or the bear, jumper and embroidery of each My Teddy.
To support this confidence we guarantee that should for any reason you not be satisfied with you're My Teddy bear then we will provide a full refund to you, on receipt of the complete package, as sent to you, within 40 days of the original order being submitted.
We recommend contacting us in the first instance in case there are any alternative solutions that we could agree to before you return the bear, however this is not a condition of this guarantee.
Similarly we would greatly appreciate feedback on what was not to your satisfaction for you to wish to return the bear you purchased.
Feedback can be provided on our 'feedback page', by phone, email or in writing. Your effort in helping us to improve our products and services are most welcomed.
In returning a My Teddy bear, the cost of return postage is at the purchasers cost.
This being the only expense to the purchaser in the unlikely event that a bear needs to be returned.