Santa - Christmas 6
Out of Stock $70.00

Or 4 payments of $13.75 with
Learn more
$9.90 flat-rate shipping

Made & Sent Quickly

40 day money back guarantee*

Safe &amp secure shipping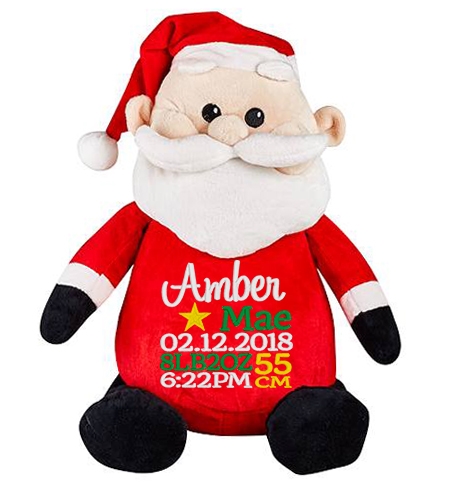 Personalised Gifts for Kids
Make this Christmas extra special with a personalised Santa from My Teddy. He is a super popular Teddy at festive season and with his charming good looks, expertly groomed moustache and beard and santa hat, it's easy to see why. This template comes with a little one's birth details including 2 names, date, weight, length, time and 2 yellow Christmas stars. While we think these colours look fantastic, you can request different colours in the 'Instructions/Colours' text box.
Santa Teddy
My Teddy have been making personalised Teddy's for over 14 years and in this time have sent out over 110,000 Teddy's. We have a huge range of different Teddy's and embroidery templates to suit any occasion. Our products meet Australian Quality Standards & we have thousands of 5 star reviews online. We don't say this to impress you, we say it to provide you with the confidence that when you order from us you'll receive your item as promised and because we send express, on time.
Ordering Online
To get your gift delivered, follow these simple steps:
Enter the first and middle name, time and date of birth and weight and length of the recipient

If you'd like different coloured text to the template shown, specify in the Instructions / Colours box

Select if you'd like embroidery on the back of the Teddy (for an additional $13)

Select if it is ok if we share your finished Teddy to our social media pages

If you'd like a free gift card to be attached to your Teddy, enter the text in the appropriate section

Add to Cart and Checkout

We will then design your Teddy and send you a draft to the email you provided when ordering

Once approved we will make and send you your My Teddy express.
To check out the full range of Christmas Teddy's, click here.
More Information:
Personalised Santa with Birth Details Embroidered.
Postage Costs
$9.90 Express and Registered.
$5 for each extra teddy bear ordered at the same time and going to the same address.
All My Teddy orders made & sent quickly. Teddies usually arrive within the week, in Australia, but can take longer, depending on how busy we are and your destination.
Please order well in advance for Christmas, Easter and Valentines Day to avoid disappointment. Postal services are often more congested at these times.
We use Australia Post for all our teddy deliveries.
Our parcels within Australia require a signature and we can deliver your teddy bear to homes, businesses, PO Boxes, hospitals etc.
You can request for your teddy bear to be left somewhere safely with NO signature, just mention this on your order. This is at your own risk.
Postage time will depend on your location in Australia.
We use Air Mail for overseas parcels and, depending on your location, can take several weeks to arrive. New Zealand deliveries are generally 5-14 days.
Please note that overseas parcels do not have tracking.
Our Guarantee
We are confident you will be more than satisfied with the quality or the bear, jumper and embroidery of each My Teddy.
To support this confidence we guarantee that should for any reason you not be satisfied with you're My Teddy bear then we will provide a full refund to you, on receipt of the complete package, as sent to you, within 40 days of the original order being submitted.
We recommend contacting us in the first instance in case there are any alternative solutions that we could agree to before you return the bear, however this is not a condition of this guarantee.
Similarly we would greatly appreciate feedback on what was not to your satisfaction for you to wish to return the bear you purchased.
Feedback can be provided on our 'feedback page', by phone, email or in writing. Your effort in helping us to improve our products and services are most welcomed.
In returning a My Teddy bear, the cost of return postage is at the purchasers cost.
This being the only expense to the purchaser in the unlikely event that a bear needs to be returned.