Teddy cubby large
Out of Stock $97.00

Or 4 payments of $24.25 with
Learn more
$9.90 flat-rate shipping

Made & Sent Quickly

40 day money back guarantee*

Safe &amp secure shipping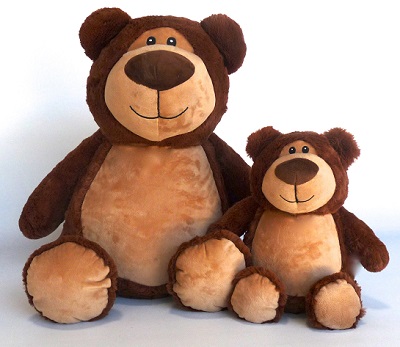 Giant teddy Bear - Personalised
Nothing makes an impression like a massive teddy bear. Our large teddy is perfect when you want a gift with real impact. With the added feature of being able to embroider on their tummy, all of your special details are there forever. Teddy can be cuddled and adored for years to come. If you want to be the favourite Aunty or Uncle, the large teddy bear is the perfect birth present. It's also the best gifts for girlfriends, so if you want to earn serious brownie points, the jumbo teddy is a great gift for girlfriends.
Jumbo Teddy is your classic brown teddy at a big 70cm. It is the much bigger version of the 38cm one. The picture shows the size difference.
**NOTE that you are ordering one large bear, not a large and a small bear. The picture is for comparison purposes only.
We also have a Jumbo Unicorn and Jumbo Bunny.
**Also note that this item is sent within our normal timeframes however is NOT Express Posted. The post includes Registered within Australia and Air Mail for overseas. If you want posted Express please contact us for a quote first.
More Information:
Extra large teddy bear. One bear only - image is for size comparison.
Postage Costs
$9.90 Express and Registered.
$5 for each extra teddy bear ordered at the same time and going to the same address.
All My Teddy orders made & sent quickly. Teddies usually arrive within the week, in Australia, but can take longer, depending on how busy we are and your destination.
Please order well in advance for Christmas, Easter and Valentines Day to avoid disappointment. Postal services are often more congested at these times.
We use Australia Post for all our teddy deliveries.
Our parcels within Australia require a signature and we can deliver your teddy bear to homes, businesses, PO Boxes, hospitals etc.
You can request for your teddy bear to be left somewhere safely with NO signature, just mention this on your order. This is at your own risk.
Postage time will depend on your location in Australia.
We use Air Mail for overseas parcels and, depending on your location, can take several weeks to arrive. New Zealand deliveries are generally 5-14 days.
Please note that overseas parcels do not have tracking.
Our Guarantee
We are confident you will be more than satisfied with the quality or the bear, jumper and embroidery of each My Teddy.
To support this confidence we guarantee that should for any reason you not be satisfied with you're My Teddy bear then we will provide a full refund to you, on receipt of the complete package, as sent to you, within 40 days of the original order being submitted.
We recommend contacting us in the first instance in case there are any alternative solutions that we could agree to before you return the bear, however this is not a condition of this guarantee.
Similarly we would greatly appreciate feedback on what was not to your satisfaction for you to wish to return the bear you purchased.
Feedback can be provided on our 'feedback page', by phone, email or in writing. Your effort in helping us to improve our products and services are most welcomed.
In returning a My Teddy bear, the cost of return postage is at the purchasers cost.
This being the only expense to the purchaser in the unlikely event that a bear needs to be returned.